ACUTE KIDNEY INJURY IN PATIENTS PRESENTING WITH SEVERE COVID-19 - A DESCRIP-TIVE STUDY
Keywords:
Acute kidney injury, COVID-19, Pneumonia, Severity, Epidemiology, SARS COV-2
Abstract
The Corona Virus Disease (COVID-19) was reported for the first time in 2019 as acute respiratory syndrome. However, its effects on other systems also became evident. Acute kidney injury (AKI) is the typical manifestation of renal involvement, reported in several cases; nevertheless, there is a lack of consensus regarding AKI manifestations of COVID-19. Therefore, this study was designed to determine the frequency of AKI in Pakistani patients presenting with severe COVID-19. It was a descriptive cross-sectional study conducted at the Department of Nephrology, Liaquat University of Medical and Health Sciences, Jamshoro, over a period of six months from 1 January 2022 to 30 June 2022. A total of 113 patients were included, who fulfilled pre-defined inclusion criteria. Acute renal injury was assessed using acute kidney injury based on the 2012 KIGDO AKI criteria. The mean age of our study's participants was 45.72 years, and of the 113 participants, 49 (43.4%) were male and 64 (56.6%) were female patients. Twenty-eight (24.8%) had diabetes, and thirty-four (30.1%) were hypertensive. 59 (52.2%) patients were found to have AKI. Age, gender, diabetes, hypertension and the severity of COVID-19 did not show any significant association with AKI. Acute kidney injury was found in a considerable number of COVID-19 patients. Therefore, close monitoring of patients must be done in all patients with regular follow-up.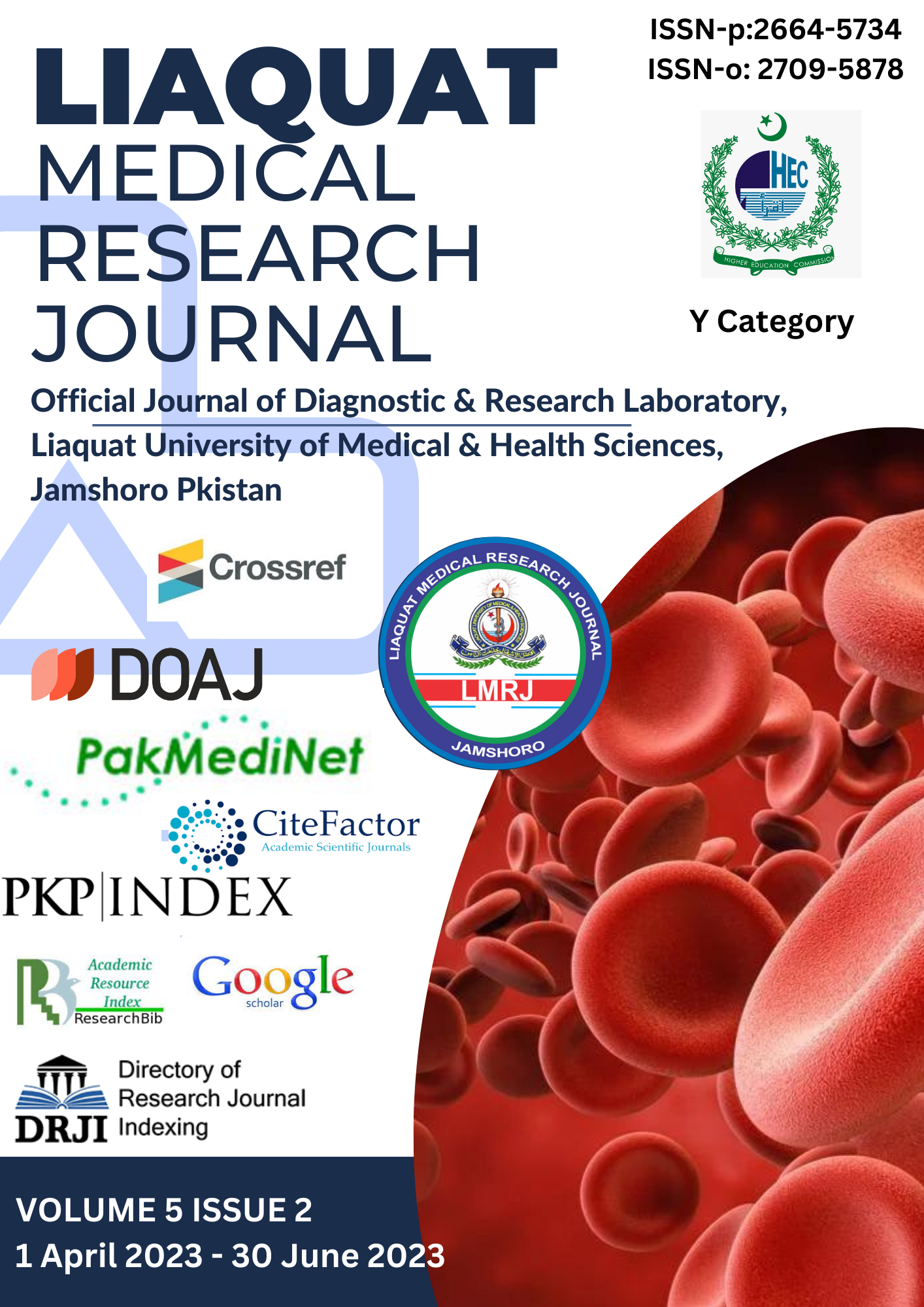 Downloads
How to Cite
Ashraf, I., Mal, P. M., Javed Altaf Jat, Kumar, M., Gurbukshani, S., Fatima, A., & Tahir, K. (2023). ACUTE KIDNEY INJURY IN PATIENTS PRESENTING WITH SEVERE COVID-19 - A DESCRIP-TIVE STUDY . LIAQUAT MEDICAL RESEARCH JOURNAL, 5(2). https://doi.org/10.38106/LMRJ.2023.5.2-03
License
Copyright (c) 2023 Iram Ashraf, Pooran Mal, Javed Altaf Jat, Mukesh Kumar, Sunil Gurbukshani, Aqsa Fatima, Khashia Tahir
This work is licensed under a Creative Commons Attribution-NonCommercial-NoDerivatives 4.0 International License.
Copyright: Open access journal copyright lies with authors and protected under CC BY-NC-ND 4.0 licence (https://creativecommons.org/licenses/by-nc-nd/4.0/).